Stair Remodeling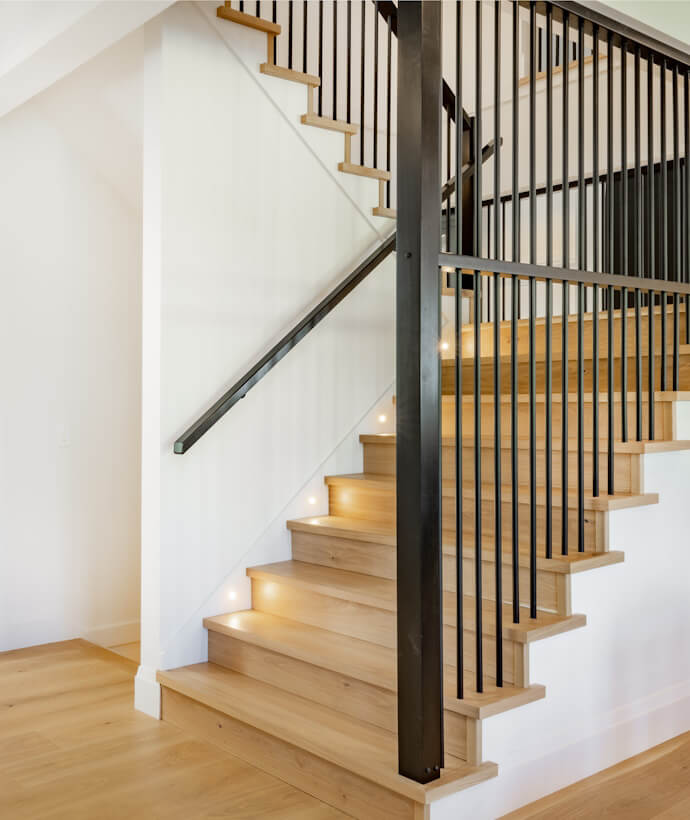 Stair remodeling requires more planning than most other renovation projects. Before getting started, it's important to consult a LeviArs Designer who will consider the overall design of your home, if your stairs are an integral part of your home's style, or if they're essential to the traffic flow of your home, LeviArs Designer will make sure the renovation honors their importance.
Once LeviArs Designer will sort out the larger issues, he will help you to decide what kind of stair remodel you want to pursue. LeviArs Designer will consider factors like the type of stairs you have (spiral, straight, etc.), the material of the stairs, and the height and width of the risers, balusters, and handrails. If you're looking to improve the aesthetic quality of the stairs, LeviArs can do a complete makeover by refinishing the existing steps and adding new wood, metal, stone, or tile details. If structural issues necessitate major repairs, LeviArs Designer will use the right crew to reinforcing the stairs. LeviArs Designer also will offer you different options for lighting the stairs. If your home has stairs inside, an overhead light can improve visibility and add a decorative touch. Outdoor stairs may require lights that automatically turn on at night, for safety and visibility.
Finally, LeviArs follow the local building codes and safety guidelines on staircases. This is particularly important if you think you may need to make major structural changes. Ideas are just the beginning. Find LeviArs Floors & Interiors to help you design and implement your stair remodel. We can help you sort through your ideas and make sure your project meets all necessary regulations.
Insured
Leviars Floors & Interiors is fully insured for your peace of mind throughout your project
Locally-owned
We take pride in offering our clients personalized service, care, detail, and products
Free Estimates
We look forward to hearing from you so that we can provide you with a free estimate!
Why LeviArs Floors and Interiors?
LeviArs Floors & Interiors, offers a comprehensive range of staircase options – from stairs building and renovation, to repair, maintenance, and remodeling – that can fit any budget, lifestyle, and design. Whether you are looking for a modern spiral staircase, a wooden staircase, a traditional staircase, or a staircase that will bring natural light into your home, LeviArs Floors & Interiors has something for everyone. Our experienced team of engineers and craftsmen will create the perfect staircase to match your home improvement goals. In addition, our advanced technology and precision-based approach ensure maximum stability, strength, and longevity with each stair design.
With LeviArs Floors & Interiors, each staircase we create is made with the highest quality materials and craftsmanship. Our experienced team has years of experience in staircase design, repair, maintenance, and remodeling. Whether you are searching for a new, complete set of stairs or just need to revitalize an existing staircase, we guarantee that each design we make is a custom one-of-a-kind creation. Our expert professionals are available to help you build the stairs you have always wanted, while taking into account all of your specific aesthetic preferences, the space, and the type of materials you want. Additionally, our team is committed to making sure that your stair design project is completed on time and on budget, so you can be sure that the result will be perfect. So, if you're looking for a smart and reliable way to upgrade your home, look no further than LeviArs Floors & Interiors.
Let us help you give your home the staircase it deserves!